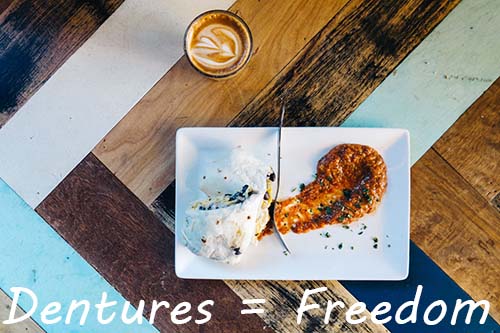 If you're missing multiple teeth or experiencing pain when you chew, dentures can help relieve some of the stress you're feeling. We know that it's not a decision to make lightly, but it can be a healthy one, and our Williamsville dental office will support you every step of the way.
Contact Dr. Clauser at Williamsville Family Dentistry for questions about dentures or dental implants!
The Pros of Dentures
Dentures commonly get a bad rep, but if your dental health is deteriorating, they can be a relief from the pain and hassle of not having functioning teeth. If you're missing teeth, you'll be able to chew and eat the foods you love again. If you've been experiencing pain while you chew, it will be a relief to eat in comfort again.
Tips for Denture Care
If you've made the switch to dentures, here are some tips to ensure you have a great experience.
Get a Good Adhesive. Don't skimp out when it comes to adhesive. Try a few and see what works for you! Having to reapply adhesive throughout the day can be a pain, so it's well worth getting one that really lasts. Your dentures will feel less like dentures and more like real teeth, plus they won't rub on your gums.
Clean Them Every Day. Dentures are an investment, and they can last much longer with proper care. Be sure to clean them each night, and even once during the day if it's convenient.
Take Smaller Bites. The myth surrounding dentures is that you can no longer eat the foods that you love. You can eat them – but just eat them differently. You may need to take smaller bites, or cut up foods that you might not normally cut, but it all tastes the same! Just modify your bites and you'll find that you can still eat many of the foods that you normally would.
Get your smile back with dentures! Contact us for your consultation.