Dental Implants in Williamsville
If you're missing one or more teeth, dental implants can permanently restore your smile! If you're tired of hiding your smile, ask us how dental implants can make it easier to talk, laugh, and eat your favorite foods again
Permanently replace missing teeth!
Eat, speak & smile with confidence again!
Affordable payment options available.
FREE
Dental Implant Consultation
Tooth Replacement Options
Whether you've lost teeth to decay or you've suffered an injury, living with missing teeth isn't something you have to do. Patients of all ages come to us for dental implants because they're looking for tooth replacement option that offers greater convenience and a more natural fit compared to bridges or traditional dentures. The Williamsville Family Dentistry team can help you decide if tooth implants are right for you! Contact us to find out how you can afford dental implants and repair your smile for years to come.
What Are Dental Implants?
Dental implants are composed of two parts. First, a biocompatible titanium post is inserted into the jawbone to provide a strong foundation for the replacement tooth. Next, a replacement tooth (or prosthesis) is constructed to fit your mouth and is attached to the implant. The replacement tooth looks and feels natural, just like the rest of your teeth.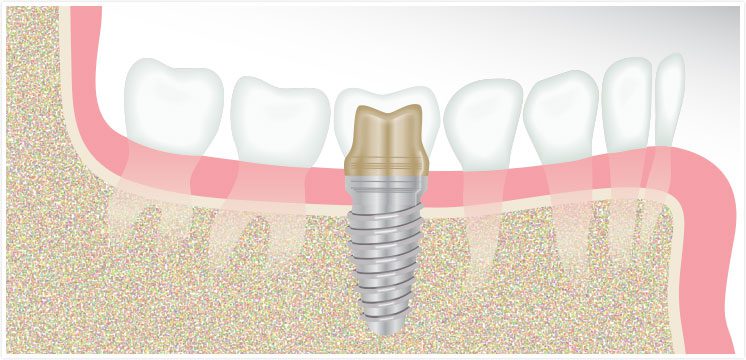 Implant Stabilized Dentures
If you're tired of uncomfortable rubbing and gooey adhesives with dentures, implant-stabilized dentures can help you regain your freedom. Dental implants are placed in the upper and/or lower jawbone. Dentures are fitted with pieces that snap into the implants, much like a ball-and-socket joint. These implants provide a durable foundation for dentures and prevent the discomfort that commonly accompanies them.
Benefits of Tooth Implants
Are you still deciding if tooth implants are the right choice for you? Whether you decide to replace one tooth, replace multiple teeth, or secure your dentures with them, they offer a number of benefits that not only make things easier on you, but better for your dental health as well.
The benefits of dental implants and denture stabilization include:
Prevents uncomfortable rubbing of dentures
Caring for implants is as easy as caring for your own teeth
Helps to slow bone loss
Help surrounding teeth stay healthy
Eat your favorite foods again
How Much Do Dental Implants Cost?
Everyone's smile is unique, which means that every dental implant case we see is unique. Many different things play a role in the cost of dental implants, including number of teeth being replaced, placement of those teeth, and whether your insurance covers any portion of the procedure. To give you an accurate cost estimate, we invite you to come into our office for a tooth implants consultation so we can discuss the specifics of your unique treatment plan.
Williamsville Family Dentistry accepts insurance, has payment plans, and offers an in-house Dental Savers Plan. Our team can work with you to find a way for dental implants to fit into your budget!
We offer start-to-finish dental implant care here at Williamsville Family Dentistry, so you'll be enjoying your new smile in no time! If your insurance doesn't cover your implant care, ask about our Dental Savers Plan!