Looking for a Williamsville Dentist?
We Welcome New Patients
We consider it a privilege that you have chosen Williamsville Family Dentistry for your dental care. We make it our business to get to know our patients so we can deliver dental treatment in an atmosphere that is relaxed and nurturing.
Our dental office is convenient for Western New York residents, including Williamsville, Amherst, and East Amherst.  Scheduling an appointment at Williamsville Family Dentistry is easy! Just fill out the form on our Make an Appointment page and we'll be in-touch. Or you can always give us a call: (716) 568-2273
New Patient Forms
We know how frustrating new dental visits can be! Save yourself some time by downloading the form below, your visit can go smoothly and quickly.
We still have hard copies available for you to fill out in our Williamsville dental office, but filling them out before you come in can save you time in the waiting room. If you have any questions or concerns, please feel free to contact us.
*You will need Adobe Acrobat Reader to open this document. If you do not already have it, you can get it here.
Williamsville Family Dentistry Office Hours
Monday 8:00 – 5:00
Tuesday 8:00 – 5:00
Wednesday 8:00 – 5:00
Thursday 8:00 – 5:00
Friday 8:00 – 1:00
About Williamsville Family Dentistry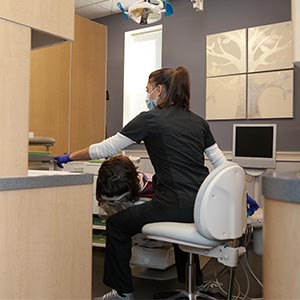 We strive to make sure that every aspect of your needs are met–from the first phone call, to the day of your appointment–our office will treat you like one of our own.
Our team uses only the highest quality materials and the latest technology available in a comfortable setting. The combination of excellent care and personalized service offered at Williamsville Family Dentistry will put you at ease while we help you achieve the smile of your dreams.
Your First Visit
Your first visit to our office is the most important one. It gives both of us an opportunity to get to know each other. Establishing a good relationship is important to us in achieving our common goals. This time together will allow us to determine if we are compatible.
Your first visit will be a comprehensive exam and consultation lasting approximately 60 mins. During the visit, you can expect:
Dental X-rays
Periodontal Screening
Smile Analysis
TMJ Evaluation
Consultation
*If time allows, we may be able to give you a cleaning at this first visit. Due to the amount of time we want to spend evaluating your needs and getting to know you, this may not always be possible.
For some new patients to our office, the first visit is for an emergency or a specific concern, in this case we will attend to the emergency situation or concern first and make you comfortable.