Meet Dr. Kevin Clauser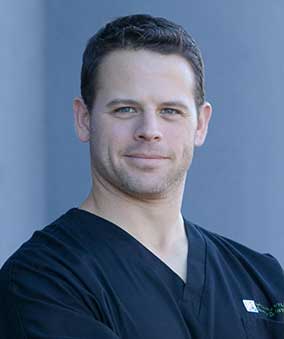 Dr. Kevin Clauser completed his undergraduate studies in Biology at Indiana University in Bloomington, IN and his DDS degree at Indiana University School of Dentistry in Indianaoplis, IN. After graduation Dr. Kevin worked for Heartland Dental Care, one of the nation's largest practices, in Illinois.
Dr. Kevin is committed to continuing education both clinically and managerially. He has traveled the country studying and improving his skills under the guidance of many industry leaders. Dr. Kevin believes that only through constant and never-ending improvement can he provide the best care possible for his community. He understands the value in a positive and personable dental experience for patients and strives to exceed those expectations. He is a certified dental implant specialist, and is committed to helping patients achieve a healthy smile.
Dr. Kevin is originally from Fort Wayne, IN and is a passionate Indiana Hoosiers basketball and a Notre Dame football fan. In his free time he enjoys spending time with his three beautiful children, giving his wonderful wife a hard time and playing golf.
(716) 568-2273
Call to schedule an appointment with us at Williamsville Family Dentistry!