"An apple a day keeps the doctor away," or so the saying goes. But being proactive about your oral health actually has a number of benefits for your smile, which is why it's so important to keep up with your routine exams and cleanings.
<a href="https://williamsvillefamilydentistry.com/wp-content/uploads/2015/11/reasons-preventive-dental.jpg">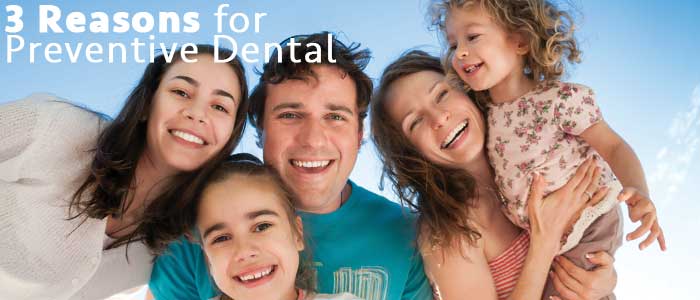 Improve Oral and Overall Health
The health of your teeth and the health of your body are inextricably linked. Studies have shown links between gum disease and other serious conditions like heart disease. Coming in for regular exams allows your dentist to ensure your gums are in good health. Your preventive appointments are also a time for your dental team to check for early signs of oral cancer.
Retain Your Natural Teeth
Our goal for our patients is, first and foremost, to preserve your natural teeth. Natural teeth are stronger than any replacement we could give you like an implant, plus they look and function better. With regular preventive care, you're more likely to keep your natural teeth much longer than if you miss out on appointments too often.
Save Time & Money
If you stick with regular appointments, chances are your teeth are going to stay in good shape. This means that you won't have to spend time going back and forth to multiple appointments to get your pearly whites back in good shape. You won't have to take extra time off of work to go see a specialist. And because you're only coming in for your routine appointments, you won't be spending money on additional appointments or extra treatments. In fact, you shouldn't need any additional treatments because your smile will already look great!
Make sure to call Williamsville Family Dentistry to schedule your bi-annual exam and cleaning, so our team can help you maintain your beautiful, healthy smile.