Christmas shopping for kids can be hard, even with all the fun and amazing games to choose from, you may feel stumped on how to best to gift children in a beneficial and meaningful way. Playing with toys is one of the most effective learning tools for children, so it is important that the gift you pick is not only fun for the kids but also has something vital to teach them. And what better way to inject some education into playtime than to teach children some very good dental hygiene habits early on in life? Since kids learn from playing, getting them a toy that reminds them the importance of habits such as flossing and brushing correctly is a wonderful way to instill these ideas so they become second nature. Williamsville Family Dentistry has picked out a selection of toys that will help kids of all ages learn about the virtue of good dental hygiene.
Play-doh Doctor Drill 'N Fill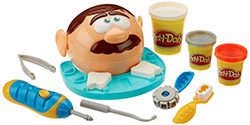 The Play-doh Doctor Drill 'N Fill game is so entertaining that you may even find yourself more interested in drilling teeth than your kids! While this game is less about preventative care and more about the consequences of cavities and fillings, it nevertheless serves as a great game to show kids what will happen at the dentist if they don't brush and floss their teeth everyday! The Doctor Drill 'N Fill is complete with an electric drill for performing root canals, large tweezers for pulling teeth, braces for the future orthodontist, and plenty of Play-doh for either filling teeth or brushing them! Think of this dental gift for kids as the dentist version of the Operation Game from 1965.
Calico Critters Country Dentist Set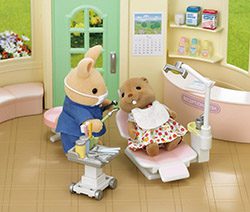 A fluffier and brighter game for kids is the Calico Critters Country Dentist Set which has lots of dental instruments and tools that you will find at the dentist's office. You can even use this game to introduce or remind children what they can expect when they go the dentist's office.
The game includes Bunny Richard in a cute dentist uniform, a reclining dental chair with spit sink, a detachable chair lamp, a swiveling stool, a dentist tray on wheels, a surgical mask, a patient bib, 2 toothbrushes, 2 cups, 2 dental jars and 6 dental tools. Everything you may need when a bunny is cleaning and operating on your mouth!
Your child will be squealing with delight on Christmas morning!
Educational Teeth Teaching Model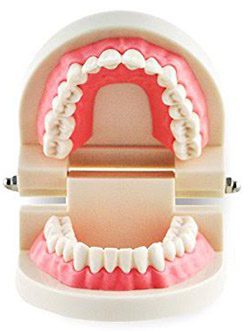 This mouth is a great tool for showing children exactly how to floss and brush their teeth. Flossing is an especially difficult task for children whose hands haven't developed the level of dexterity that adults have.
However, you should be helping your kids floss their teeth before they can do so on their own, and you can use this teeth teaching model to demonstrate how the floss needs to hug the tooth and go just below the gum line.
The teeth teaching model can also be reused for Halloween decorations next year!
Disney Doc McStuffins Happy Smiles Dentist Play Set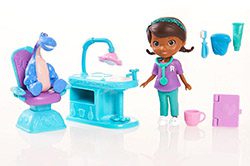 This play set features Doc McStuffins the dentist and Stuffy the dinosaur as her patient. This dental play set is appropriate for children as young as 3 and can be an imaginative way to introduce dentist visits to a young child.
By being able to see a real dentist helping a friendly dinosaur with their teeth, children can let their imagination run wild with all the magic that can happen at the dentist's office.
Doc McStuffins can help children see that going to the dentist can be fun.
The Berenstain Bears Visit the Dentist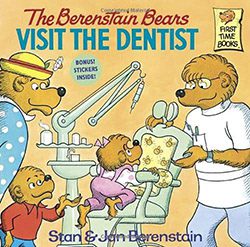 What better way to teach your children about oral health than to read to them? In this book, children can follow their favorite bear family on their trip to the dentist and learn about what a dentist visit entails as well as what they can do to make their dentist visit fun and rewarding.
At Williamsville Family Dentistry, we want to make sure your whole family is taken care of and that even the smallest members of the family practice good oral hygiene. By teaching your kids early on, you instill these important practices that they will carry with them throughout their lifetime. With fun games and toys, the whole family can participate in learning and engaging in dental care. Happy holidays and remember, if you need to see a dentist in Williamsville, be sure to call us to schedule an appointment.
(image credit: amazon.com)
Contact Us
Call Williamsville Family Dentistry for fun dental visits for your entire family!