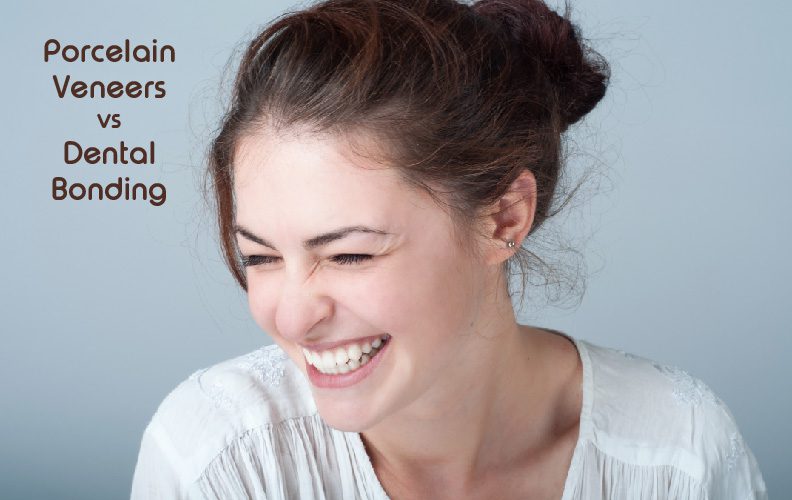 Are you looking for a way to make over your smile or fix unsightly teeth? Dental veneers and dental bonding are two ways to achieve a new, beautiful look. How do you know which one is right for you, though? Here's a breakdown of how each one works to improve your smile.
Porcelain Veneers
Patients that consider porcelain veneers are often trying to cover up chips, cracks, gaps between their teeth, or even discoloration that whitening hasn't worked to fix. It's amazing how you can truly transform your smile with porcelain veneers.
Think about it: your smile is one of the first things people notice about you. If you feel embarrassed about smiling, it could have a big impact on your self-esteem. You should not just feel good about your smile; you should feel confident in it!
So, what are porcelain veneers? They are thin shells that are attached to the front of your teeth. We uniquely and individually craft veneers for each patient. This means every porcelain veneer is made especially for you to match your specific smile needs. Once applied, care for your veneers just like you would your natural teeth.
You can get porcelain veneers for all of your front teeth to completely change the look of your smile, or you can get just a couple of veneers to change just the teeth that you're unhappy with.
Find out more about how porcelain veneers may be a great fit for your teeth by scheduling a consultation with our office today!
Dental Bonding
Dental bonding is the process of applying a tooth-colored resin material to your teeth using a high-intensity curing light and adhesives. We can use bonding to fix a number of cosmetic issues, including:
repair decayed teeth
repair chipped or cracked teeth
fix discolored teeth
close spaces between teeth
make teeth look longer
change the shape of teeth
fix a number of other cosmetic or health issues your teeth may have
The process takes anywhere between 30 minutes to an hour for each tooth. It is one of the least expensive dental procedures for fixing teeth. Bonding doesn't last nearly as long as veneers, though, and it is also not as stain-resistant as veneers.
Which One is Right for You?
Call our office to schedule a consultation to find out whether veneers or dental bonding are right for you. Our team will take a look at your teeth and discuss your goals and lifestyle with you to help you make the best choice for you. We look forward to giving you a beautiful smile!