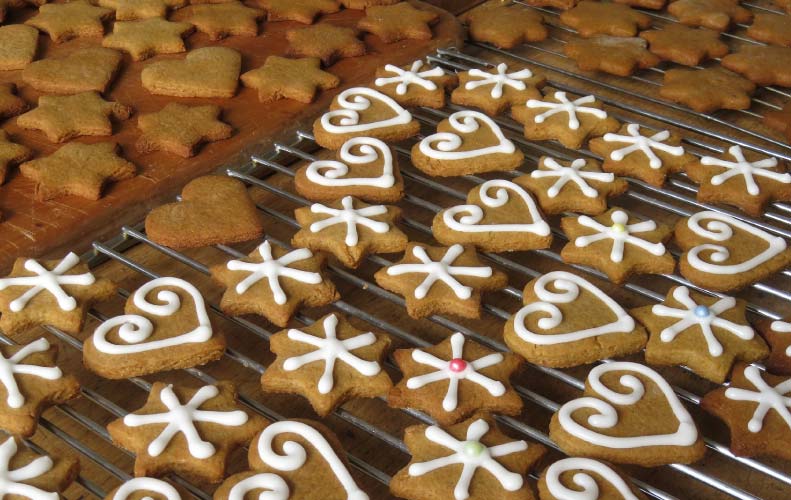 During the holidays, it can be tough to find food that isn't chock full of sugar, or will make your teeth ache and your waistline expand. But it's still the holidays, and you want to be able to enjoy your comfort foods and a treat or two, so here are some of our suggestions for healthy holiday foods that are good for your teeth.
Sweet Potatoes
Sweet potatoes are soft on your teeth and can be prepared without any sugar, like when they are roasted in olive oil, salt, pepper, and some fresh herbs. They're also a great source of magnesium and irons, and vitamins C, D, and B6.
Gingerbread
Sugar cookies are often filled with just that. Instead, opt for gingerbread cookies which often call for less than half the sugar that other cookie recipes do. As an added bonus, gingerbread is also high in fiber.
Cranberry Sauce
You can find a number of cranberry sauce recipes that aren't loaded with sugar, and cranberries themselves have a number of health benefits. Cranberries can help kill bacteria in the mouth, preventing cavities and periodontitis. So go for a helping of cranberry sauce, as long as it's low-sugar.
Pumpkin Pie
A holiday staple, pumpkin pie is one of the healthiest pies out there. Pumpkin is soft, and you can find many recipes that use only a little bit of sugar and don't sacrifice any of the flavor. And like gingerbread, pumpkin is chock full of fiber. Just try to resist a huge dollop of whipped cream!
Cheese
Cheese is a great hors d'oeuvre because it contains proteins like casein that act as a buffer against bacteria and acids that can cause tooth decay. It is also high in calcium and protein, both of which are good for your teeth. Just be sure not to eat too much as cheese is high in fat.
Oatmeal Cookies
Because oatmeal cookies often call for much less sugar than chocolate chip or sugar cookies, they're naturally a bit healthier. You can even substitute apple sauce for sugar in the recipes. Oatmeal is also a lot softer on your teeth than these other cookies.
Crudité
Raw veggies like carrots and celery are full of fiber and vitamin A. Carrots help increase saliva production in your child's mouth, which reduces the risk of cavities by fighting off bacteria and rinsing away food particles. Celery's fibrous strands help to naturally clean teeth. Serve alongside hummus and you've got a great snack for you and your guests.
The holidays can still take a toll on your oral health if you're not careful, so call us to schedule an appointment for a checkup and cleaning in the new year!